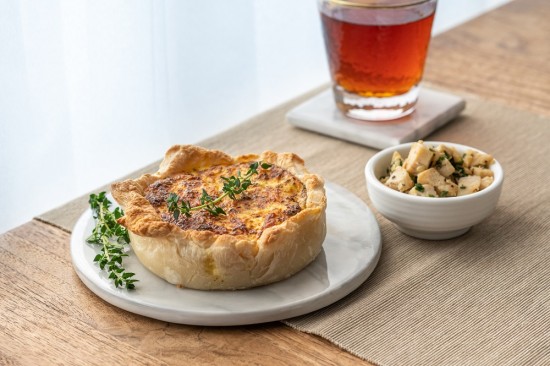 Quick & Easy Chicken Quiche

15 mins

8 SERVINGS
INGREDIENTS
1 pack Sadia Pepper Grilled Chicken Breast, thawed
Cooking spray :
1 frozen puff pastry, thawed, unfolded, and lightly rolled
1 tbsp Dijon mustard
1 tbsp butter
1 cup green onions, chopped
2 cloves garlic, chopped
3 eggs
130g heavy cream
1 tsp salt
½ tsp nutmeg
½ tsp ground black pepper
½ tsp Italian seasoning
2 cups gouda cheese, shredded
METHOD
Preheat oven to 190°C and grease a 9-inch pie dish with cooking spray.
Line the prepared pie dish with puff pastry, making sure to cover the base and the sides. Trim excess pastry and brush the bottom with Dijon mustard.
Cut the Pepper Grilled Chicken Breast into bite-sized cubes.
Melt butter in a saucepan over medium heat. Add chopped green onions and cook until tender, about 5 minutes.
Add garlic and cook for 1 more minute. Then mix in the chicken and cook for another minute.
Whisk eggs, heavy cream, salt, nutmeg, ground black pepper and Italian seasoning together in a bowl.
Layer half of the gouda cheese over the puff pastry and top with chicken mixture.
Pour in egg mixture and sprinkle the remaining gouda cheese on top.
Bake in the preheated oven until set and golden, for about 25 minutes.
Pepper Grilled Chicken Breast
Popular Recipes