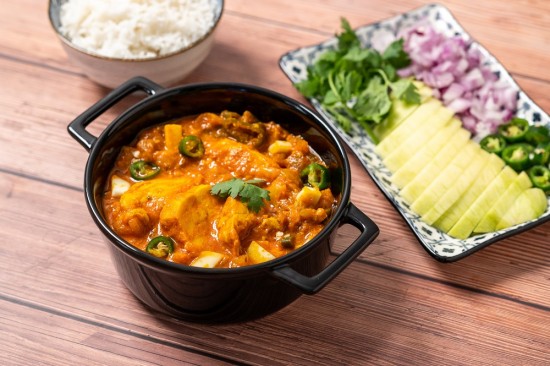 Green Mango Chicken Curry

10 mins

5 SERVINGS
INGREDIENTS
2 packs Lemony Greek Yoghurt Grilled Chicken Breast
1 cup oil
2 green/unripe mangoes
4 onions, chopped
4 green chilies
Curry leaves, a few
1 teaspoon turmeric powder
1 tablespoon red chili powder
1 tablespoon ginger garlic paste
Salt to taste
METHOD
In a wok, add oil and fry the onions till soft. Then set aside onions.
Now add ginger garlic paste, turmeric and salt. Cook it until the water gets dry.
Thaw chicken, and cut breast into large pieces. Add chicken to wok.
Now add onions, red chili powder, raw mangoes, green chilies and curry leaves and cook it or on low flame and cook it.
Your dish is ready to serve.
Popular Recipes