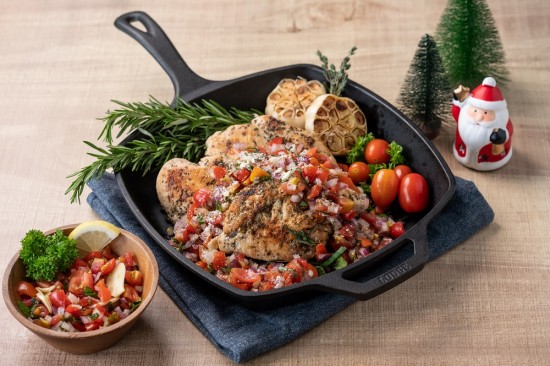 Christmas Bruschette Chicken

15 mins

4 SERVINGS
INGREDIENTS
4 pieces Sadia Chicken Skinless Breast
Salt and pepper, to season
2 tsp garlic powder
1 tbsp Italian seasoning
3 tbsp extra-virgin olive oil
4 medium tomatoes, diced
1/2 red onion, minced
2 garlic cloves, minced
1/3 cup fresh basil, chopped
For garnishing:
Fresh basil, chopped
Balsamic vinegar
Parmesan cheese, grated
METHOD
Season the chicken on both sides with some salt, pepper, garlic powder and Italian seasoning.
Heat 2 tbsp of the olive oil in a large skillet over medium heat. Add the chicken to the pan and cook until well browned on both sides and fully cooked, for about 8-10 minutes.
While the chicken cooks, mix the remaining 1 tbsp olive oil, tomatoes, red onion, garlic and basil.
Once the chicken breasts are cooked, plate them. Then portion the tomato mixture and place a big scoop on top of each chicken breast.
Garnish with additional basil. Drizzle some balsamic vinegar and top with Parmesan. The Christmas Bruschette Chicken is now ready to be served!
One by One Chicken Breast (Skinless)
Popular Recipes