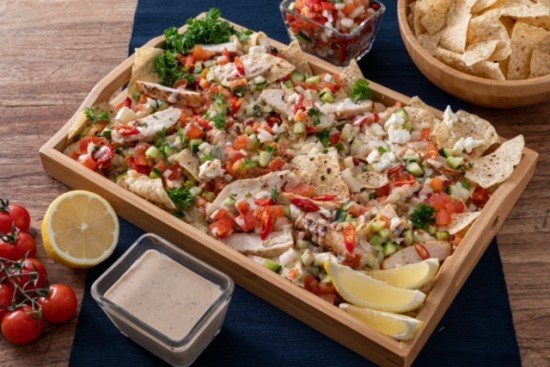 Chicken Shawarma Nachos

15 mins

6 SERVINGS
INGREDIENTS
1 pack lemony yogurt chicken breast
corn chips
170-225g feta cheese
MEDITERRANEAN SALSA:
3 tomatoes, diced
1/2 cup small white onion, finely diced
3 cloves garlic, minced
3/4 cup parsley, finely chopped (plus extra for garnish)
3/4 cup cucumber, diced
1/2 cup pickled peppers, roughly chopped
3 tbsp lemon juice
1/2 tsp salt
SESAME TAHINI SAUCE:
1 cup tahini
1/2 cup lemon juice
4 garlic cloves, minced
1 cup water
1 tsp salt
METHOD
Cook Sadia's Lemony Greek Yoghurt Grilled Chicken Breast per package instructions. When cooled, slice up the chicken breast.
Next, prepare the mediterranean salsa. Stir tomatoes, onions, garlic, parsley, cucumber, peppadew, lemon juice and salt in a medium sized bowl. Adjust salt to desired taste and allow to rest for at least an hour so flavours can combine.
Prepare tahini sauce.
Preheat oven to 200°C. On a large baking sheet, lay a single layer of chips. Add chicken then a small handful of feta.
Repeat the layering process until ingredients are used up. Then move the skillet to the top rack of the oven and cook until cheese turns golden, or for 10-15 mins. Check frequently to make sure it doesn't burn.
While still hot, top with a generous scoop of mediterranean salsa, peppadews and a drizzle of tahini sauce. Serve immediately and enjoy!
Popular Recipes