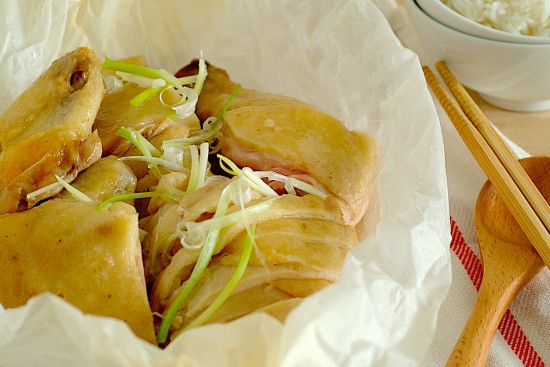 Hakka Salted Steamed Chicken

1hr 30mins

5 SERVINGS
INGREDIENTS
Sadia Chicken Griller (1.1kg), butterflied
Salt/sea salt (adjust to taste), 2 tbsp
Cooking oil, 2 tbsp
Shaoxing cooking wine, 5 tbsp
Spring onions for garnish
METHOD
Marinate
Pat the prepped and cleaned chicken dry with paper towels.
Add salt bit by bit around the chicken and rub it in by gently massaging the bird. Ensure to coat the whole chicken evenly and completely, including the folds and joints.
Add in 4 tablespoons of Shaoxing wine and coat evenly.
Rub in the cooking oil last and let the bird rest uncovered at room temperature for about 1 hour.
Steam
Prepare steamer by bringing water to a boil. Meanwhile place the chicken onto a large tapered dish (to collect juices). Drain all liquids from the marinate.
Pour the leftover Shaoxing wine evenly onto the chicken.
Steam on low heat for 10-15 minutes*.
Turn off the heat let chicken sit covered in steamer for another 15 minutes.
Remove from the steamer. Taste test a small slice of breast meat and feel free to add more salt if necessary, while the chicken is still hot.
Let stand uncovered at room temperature for at least 4 hours, up to 6 hours.
Portion chicken and return the meat to a serving platter with drippings from the steaming. Garnish with spring onions and serve warm with rice.
*Chef's note: If you're using a chicken bigger than 1.1kg, allow for an additional 5 minutes of steaming per 200 grams of chicken.
Chicken Griller (Without Giblets)
Popular Recipes