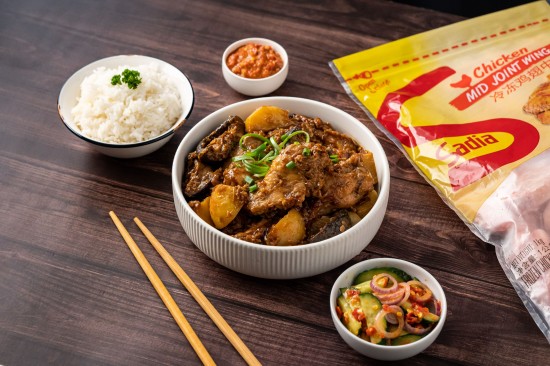 Ayam Pongteh

20 min

2-4 SERVINGS
INGREDIENTS
500g Sadia 1-by-1 Chicken Mid Wings
500g Sadia 1-by-1 Chicken Drummetes
5 curry potatoes, peeled and cut into chunks
10 dried shiitake mushrooms, soaked and sliced into quarters
4 tbsp preserved bean paste, mashed
15 shallots, peeled
8 cloves garlic, peeled

3 cups water (use the soaking water from mushrooms)
2 tbsp dark soy sauce
2 tbsp light soy sauce or to taste
white pepper powder to taste
3 tbsp gula Melaka/palm sugar, chopped finely

Sambal belacan (optional)
METHOD
Blend shallots and garlic to a paste and set aside
Deep-fry the potatoes for about 5mins, and drain
Heat 4 tbsps oil in a wok and saute the shallot-garlic paste, until aromatic, about 3 - 4 mins. Add mashed preserved bean paste and fry till fragrant, about 2 mins
Add chicken and stir-fry on medium heat until well combined. Add seasoning and water and bring to the boil"
Cover wok and braise for 20 mins
Add in potatoes, cover and braise for another 15 mins or until the chicken pieces are tender and potatoes are soft
Serve immediately with rice and sambal belacan.
One by One Chicken Mid Joint Wing
One by One Chicken Drumette
Popular Recipes