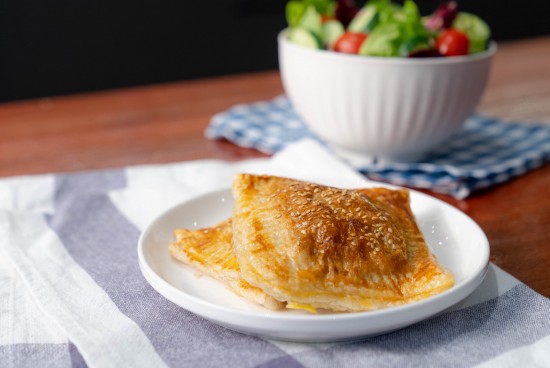 Cheeseburger Puff

15 mins

4-6 SERVINGS
INGREDIENTS
1 pack Sadia Helper Cuts Beef Minced
1/2 yellow onion, minced
1 cup shredded cheese blend of your choice (montery jack/colby)
Ready-made puff pastries
4-6 cheddar cheese slices

Seasoning:
1 tbsp salt
1 tbsp black pepper
1 tbsp garlic powder

Egg wash:
1 egg, beaten
1 tbsp water
METHOD
Cut frozen puff pastry to 4-6 pieces, then keep it chilled in the fridge for later
Preheat oven to 200ºC. Using a non-stick pan, lightly brown minced beef with minced onion, and season with some salt, pepper and garlic powder till well cooked
Add a generous serving of shredded cheese into the minced beef mix, toss quickly till cheese is well mixed in, and set cheeseburger mixture aside.
Working quickly with the chilled puff pastry on a baking tray, add a slice of cheese on each puff pastry, then add about 1/3 cup of cheeseburger mixture on top of the cheese. Allow at least 1cm allowance around the edges
Fold the bottom section of the puff pastry over the cheeseburger mix. Using the tines of a fork, lightly seal by pressing down on the edges. Repeat for the remaining puffs
Lightly brush the top of each pastry with egg wash. Bake for 10 min or until pastry puffs up and turns golden brown
Serve hot from the oven, with some fresh salad, and some ketchup and mustard on the side if desired.
Beef Minced
Popular Recipes