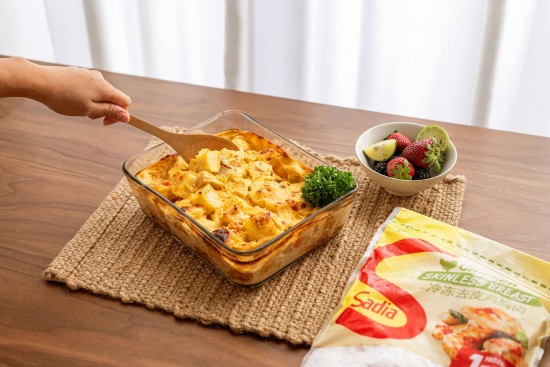 Creamy Chicken and Potato Bake

15 min

8 SERVINGS
INGREDIENTS
2-3 Sadia 1-by-1 Chicken Breast, cut into 2 inch pieces
4-5 potatoes diced into large chunks
2 cups baby carrots cleaned
300g can cream of chicken soup
340g evaporated milk
220g cream cheese
2 cups shredded cheddar cheese
Optional toppings :
Crispy bacon (or turkey bacon for Halal diet)
Minced parsley or thinly sliced green onions.
METHOD
Preheat the oven to 200°C. Spray casserole dish with non stick cooking spray, set aside.
Cut the chicken breast into large chunks. Place the diced chicken in the casserole dish.
Top the chicken with the quartered potatoes and carrots.
Combine the cream cheese, evaporated milk, cream of chicken soup and half the shredded cheese in a medium sauce pan. Place over medium high heat and whisk until smooth.
Pour cream mixture over the top of the potatoes. Finish with the remaining shredded cheese. Cover tightly with foil.
Bake in preheated oven for 1 hour 30 minutes.
Remove foil, place under broiler in the oven for 4-6 minutes until the top of the casserole is golden brown. Watch it carefully so it doesn't burn, you just want it to get all golden and toasty!
Allow to rest 15-20 minutes before serving.
One by One Chicken Breast (Skinless)
Popular Recipes