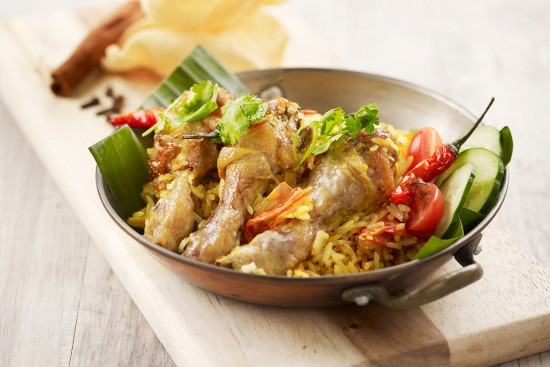 Home Style Chicken Briyani

NOT AVAILABLE

5 SERVINGS
INGREDIENTS
Briyani Rice:
4 Fresh Tomatoes, diced
Coriander – spice 50gm
Curry Leaves 50gm
Cardamom – spice 5pcs
Clove – spice 10pcs
Cinnamon Sticks – spice 2 sticks
3 Star Anise – spice
Gulam Masala – spice 20gm
Salt 50gm
Tumeric Powder 30gm
Chicken Powder 20gm
Briyani Rice 1000gm
Water 1000gm
Ghee 30gm
Chicken Marinade:
Ginger Paste 50gm
Garlic Paste 50gm
Tumeric Powder 10gm
Salt 10gm
METHOD
Marinate chicken drumsticks for 1hr with ginger paste, garlic paste, tumeric and salt.
Heat the ghee in a frying pan and fry the spices till fragrant.
Add the rice and fry for 1 min before transferring everything into a rice cooker.
Place the tomatoes, tumeric, chicken powder, curry leaves and chicken drumstick on top of the rice.
Once the rice is cooked, add 3 drops of red colouring(optional) & mix well.
Chicken Drumstick
Popular Recipes