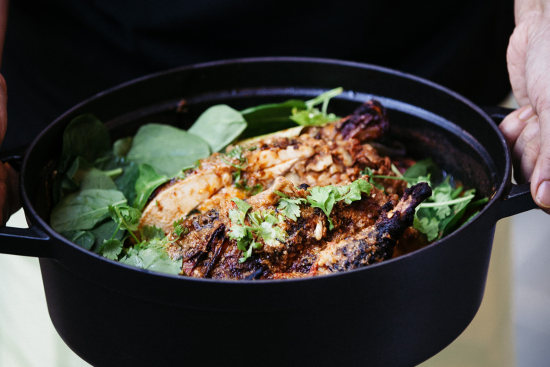 Thai Red Curry Stuffed Roast Chicken

2 hr

4 SERVINGS
INGREDIENTS
1 whole Sadia chicken (~ 900g)
200g red curry paste (add 80g water to make into paste)
50g raw glutinous rice
1 stalk lemongrass, smashed
1 red chilli, sliced
2 chilli padis, sliced
5 kaffir lime leaves, torn
1 whole garlic, smashed
400ml coconut cream (thin it out with 200 ml water and mix)
100ml oil, for searing
2 sweet potatoes (~500g), cut into medium or large chunks
150g cherry tomatoes
50g baby spinach
10g coriander roots
10g coriander, chopped
Zest of 1 lemon
Pinch of salt
METHOD
Soak glutinous rice in water for 30 minutes.
Strain and place the glutinous rice in a container and mix with pinch of salt, 10g coconut milk and 40 g water (or just enough to cover the rice). Microwave for 5 minutes. Let cool.
Preheat the oven to 190°C for 30 minutes.
Stuff chicken with semi-cooked glutinous rice.
Rub red curry paste over chicken. If necessary, mix with a bit of water to make it less dry (e.g. 40g water to 100g paste).
Sear chicken in oil until slightly brown.
Take chicken out from the pan and transfer to the baking tray.
Add smashed lemongrass, garlic, torn kaffir lime leaves, cut red chilli and chilli padis, coriander roots, sweet potatoes and tomatoes around the chicken.
Mix remaining red curry paste with coconut cream and water mixture.
Pour the curry and coconut over everything, including the chicken, and sprinkle lemon zest all over the dish.
Cover with aluminum foil and bake for 30 minutes with the breast at the bottom.
Baste the chicken occasionally.
Uncover the aluminum foil and bake further for 10 minutes until the chicken is browned and cooked through.
Serve with added baby spinach and chopped coriander.
Chicken Griller (Without Giblets)
Popular Recipes