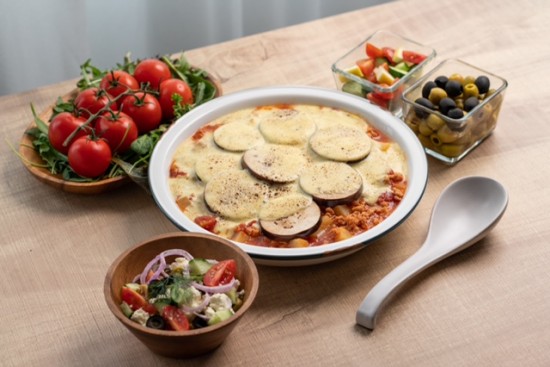 Chicken Moussaka

10 mins

4 SERVINGS
INGREDIENTS
2 packs Sadia Minced Chicken
1 large eggplant (aubergine or brinjal)
150g Greek yogurt
1 egg, beaten
3 tbsp parmesan, finely grated
400g canned tomato, chopped with garlic and herbs
4 tbsp sun-dried tomato puree
350g potatoes
METHOD
Heat the grill to high. Brown the chicken in a deep ovenproof frying pan over high heat for 5 mins.
In the meantime, prick the eggplant with a fork before microwaving on high for 3-5 mins, until soft.
Mix the yogurt, egg and parmesan together. Then add some salt and pepper to season. Set it aside.
Stir the tomatoes, purée and potatoes in with the meat and add some seasoning and heat through.
Using the back of a spoon, smooth the surface of the chicken mixture. Then slice the cooked eggplant and lay on top to cover.
Pour the yogurt mixture over the eggplants. Then, smooth out evenly and grill until the topping has set and turned golden. The dish is now complete!
Popular Recipes