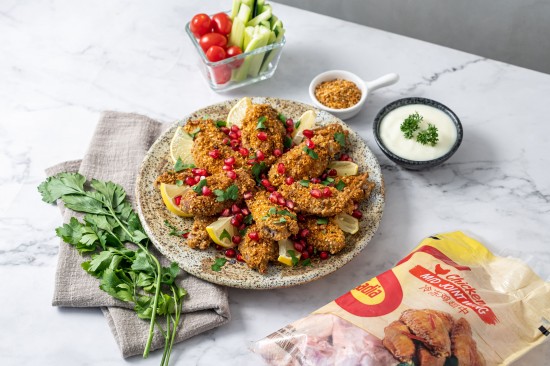 Dukkah-spiced BBQ chicken wings

25min

4 SERVINGS
INGREDIENTS
50g sesame seeds
1 tbsp cumin seeds
1 tbsp coriander seeds
1 tsp coarsely ground black pepper
1 tsp paprika
Juice 1 lemon, plus extra wedges to serve
2 tbsp olive oil
1 tbsp tahini paste
3 packs Sadia Chicken Mid Joint Wing
handful pomegranate seeds (from a tub or whole fruit)
small handful coriander leaves, stems discarded
lemon wedges, to serve
METHOD
Toast sesame seeds in a frying pan until lightly golden, then transfer to a bowl. In the same pan, toast the cumin and coriander seeds until fragrant. Now combine all the spices, sesame seeds and some seasoning in a mini food processor or use a pestle and mortar. Blend to a coarse mix.
Mix the lemon juice, olive oil and tahini paste and rub all over the chicken wings. Leave to marinate in the fridge for about an hr. Tip: you can use sesami oil as a substitute if you do not have tahini paste.
Reserve 1 tbsp of the dukkah mix and sprinkle the rest over the wings with 1 tsp salt. Toss to coat, and leave for up to 24 hrs in the fridge.
If you are up for a barbeque, grill them for 20-30 minutes until cooked through. Or you can airfry these at 180°C for 12 minutes, and then flip them over and continue for another 12 minutes.
Scatter the pomegranate, coriander, and dukkah (set aside earlier) over the wings, and serve with lemon wedges.
Chicken Mid Joint Wing
Popular Recipes