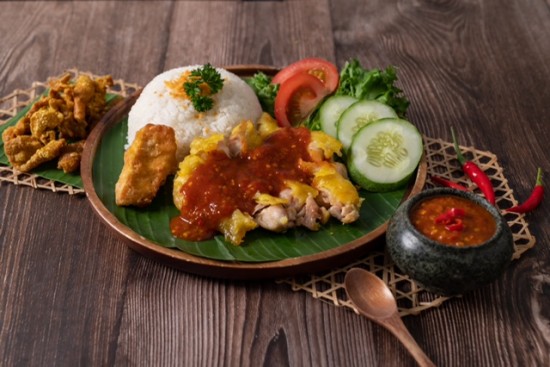 Ayam Penyet

20 mins

6 SERVINGS
INGREDIENTS
Half pack (1kg) Chicken Boneless Leg
1 tsp tamarind paste
75g big red chillies, cut in big chunks
1 medium-size tomato
2 cloves of garlic, minced
2 small onions, cut in chunks
1 tsp salt
Cooking oil for frying
METHOD
Pierce chicken with a skewer or a fork. Mix the tamarind with ½ tsp of salt, and rub it all over the poultry. Make sure all pieces are covered with tamarind mixture. Leave to marinate.
Using a pestle and mortar, pound the chillies, onion, and tomatoes into a rough paste. You can use a food processor too. Just give it a few blitzes to process. Set aside.
Heat the oil in a deep frying pan or a wok then deep-fry the chicken pieces until light golden and thoroughly cooked. Set aside.
Using ⅓ cup of the oil from frying the chicken, fry the chilli mixture, garlic and ½ tsp of salt in another pan. Cook until all the liquid evaporates and the oil separates from the edges.
In the meantime, lay the chicken pieces on a chopping board. Using the flat part of a knife, pound the chicken until it's flattened slightly
Then quickly but carefully pour the chilli mixture over the chicken. Enjoy.
Chicken Boneless Leg
Popular Recipes