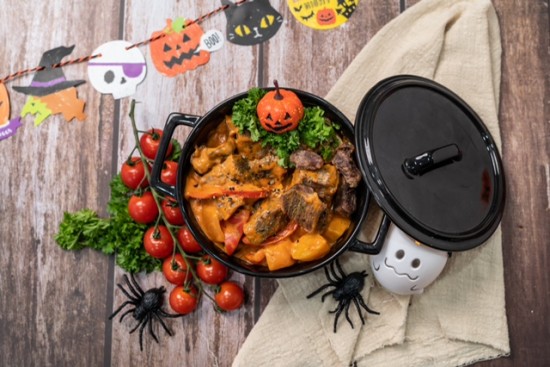 Graveyard Beef Stew

10-15 mins

5-6 SERVINGS
INGREDIENTS
1 pack Sadia beef cubes, thawed
1/4 tsp fine salt
1/4 tsp pepper
1/2 tsp paprika
3 tbsp unsalted butter
3 tbsp melted unsalted butter
2 medium yellow onions, chopped in chunks
1 garlic clove, minced
2 tbsp tomato paste
2 cups beef stock
2 pcs bay leaves
140g potatoes, peeled and chopped into 4
1 large red bell peppers, sliced
1/2 cup whole black olives
1 1/4 cups all-purpose cream
METHOD
Season the beef cubes with salt, pepper and paprika. Set aside.
Heat unsalted butter in a pan till melted. Sear seasoned beef cubes in the pan for about 1 minute. Then transfer the seared beef and set it aside.
In the same pan, sauté onions and garlic till soften, then add tomato paste. Cook until paste is dark red. Lower heat then add beef stock, bay leaves and potatoes. Cook till tender and sauce is reduced about half.
Add bell peppers, olives and seared beef cubes then add cream. Continue to simmer for another 1 - 2 minutes then turn off heat. Add in melted butter and stir. Season with salt and pepper to your liking.
Let the kids help with plating the Graveyard Beef Stew and serve it with some toasted bread or rice!
Beef Cubes
Popular Recipes