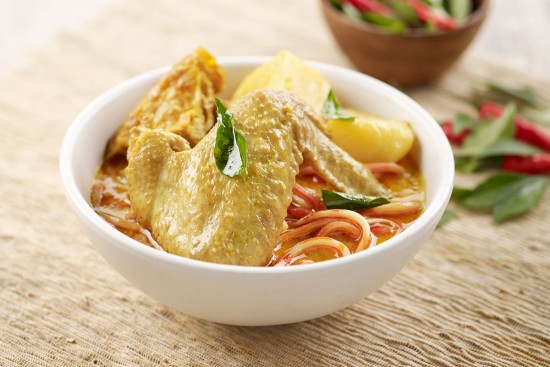 Curry Chicken Noodles

NOT AVAILABLE

5 SERVINGS
INGREDIENTS
Curry Stock:
Curry Leaves 30gm
Assam Skin 2pcs
Lemon Grass 2stalks
Pandan Leaves 1bundle
Coconut Milk 500gm
Curry Paste 500gm
Corn Oil 50gm
4 Potatoes
10 Tau Pok, dried bean curd
Water 3000gm
Yellow Noodles, fresh 1000gm
Curry Paste:
Ginger 100gm
Shallot 100gm
Garlic 50gm
Dry Chili (pre soaked) 80gm
Galanga (blue ginger) 30gm
Curry Powder 100gm
Corn Oil 50gm
METHOD
Blend all the ingredients for the curry paste in a food processor till fine.
Stir fry the curry paste until it turns dark red.
Add in curry leaves, assam skin, lemon grass, pandan leaves and water.
Simmer for 45 mins, add in chicken wing and potatoes and simmer for another 10 mins.
Add in tau pok, coconut milk and simmer for another 5 mins.
Blanch yellow noodles in a pot of hot water and transfer to a large bowl when cooked.
Place chicken wings, tau pok and potatoes and fill the bowl with gravy.
Chicken 3 Joint Wing
Popular Recipes