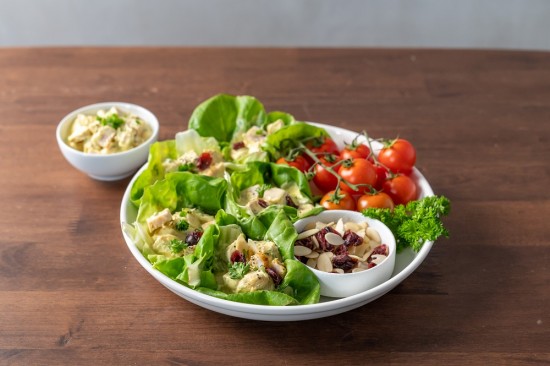 Moroccan spiced Greek Yogurt Chicken Salad

15 mins

4 SERVINGS
INGREDIENTS
2 pack Lemony Greek Yoghurt Grilled Chicken Breast (4pcs)
½ cup whole milk greek yogurt (or nonfat)
1 tsp dijon mustard
½ tsp ground turmeric
½ tsp cinnamon
½ tsp cumin
1/4 tsp salt, plus more to taste
1/8 tsp cayenne pepper (optional if you like it spicy)
Freshly ground black pepper
Add-ons:
½ cup dried cranberries
⅓ cup diced green onion
2 tbsp fresh cilantro, chopped
2 tbsp fresh parsley, chopped
⅓ cup toasted sliced almonds
Butterhead lettuce
METHOD
Airfry chicken breasts straight from freezer, at 200°C for 13-15 mins.
While the chicken breasts are airfrying, in a large bowl, add yogurt, dijon mustard, turmeric, cinnamon, cumin, cayenne pepper, salt and pepper. Mix until smooth.
Set mixture aside while waiting for the chicken breasts to be ready.
When chicken breasts are ready, dice them into cubes. Then, add into the large bowl of mixture, with dried cranberries, green onions, cilantro, parsley, and sliced almonds. Mix well.
Taste and adjust seasonings, adding more salt and pepper, if necessary. Serve as is, or in lettuce cups or in a bun!
Popular Recipes