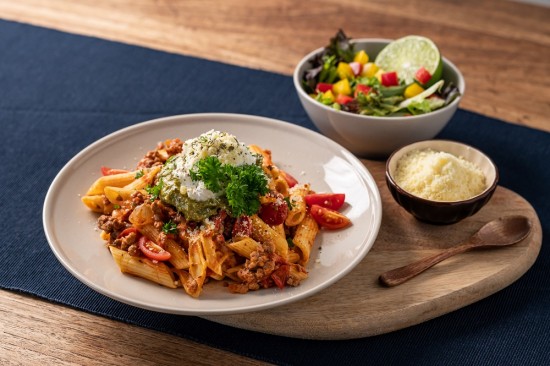 Tomato & Pesto Beef Pasta with Ricotta

10 mins

6 SERVINGS
INGREDIENTS
2 packs or 600g Beef Minced
1 large yellow onion, diced
1/2 tsp kosher salt
6 cloves garlic, minced
4 cups whole tomatoes, pureed
1 cup tomato sauce
1 cup water
2 cups penne pasta (or any short pasta of your choice)
1/2 cup basil pesto sauce
1 1/2 cup ricotta cheese
1/4 cup shredded parmesan cheese"
METHOD
Add the beef, onion, and salt to a large, non-stick skillet. Bring to medium heat and saute for 5 minutes, or until the onion is soft and the beef has mostly lost its pink color.
Add the garlic to the skillet and saute for 2 more minutes.
Mix together the pureed tomatoes, tomato sauce, and water in a bowl.
Add the pasta into the skillet. Then pour the tomato mixture over, making sure that it covers the pasta.
Bring the skillet to a boil. Then cover it and simmer on low for 20 minutes. Take note to stir the pasta once or twice while it is simmering.
Taste the pasta to make sure it's cooked through. If not, cover and simmer for another 2-3 minutes.
Then, stir in 2 tbsp of the pesto and dollop spoonfuls of the ricotta on top. Cover the skillet and remove from heat to let it rest for a few minutes.
Serve the pasta with extra pesto and parmesan cheese on top.
Beef Minced
Popular Recipes