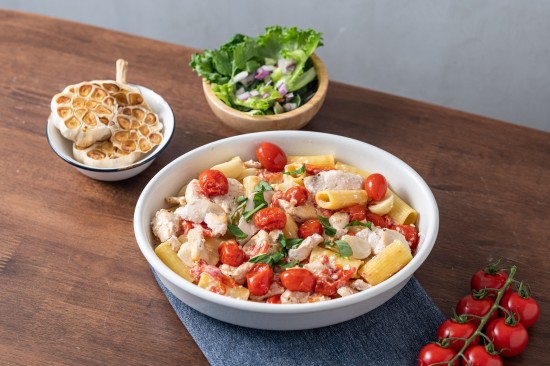 Baked Feta Chicken Pasta

10min

4 SERVINGS
INGREDIENTS
1 pack Sadia 1-by-1 Chicken Breast (Skinless)
400g cherry tomatoes
5 large garlic cloves (halved or not depending on taste)
1/2 cup olive oil
1 pack of block feta cheese (~200g)
1 teaspoon sea salt
1/2 teaspoon coarsely ground black pepper
1/2 teaspoon Red pepper flakes (if you want spice)
1 packet of Rigatoni or other short pasta (400-500g)
Fresh basil leaves, coarsely chopped
METHOD
Preheat oven to 200°C. In a ceramic dish or casserole (9x13"), place the chicken and cheese in the middle, and surround with a mixture of tomatoes, garlic and 1/4 cup olive oil.
Continue to lather the top with olive oil, then season the dish with salt, black pepper and red pepper flakes. Toss everything with your hands to ensure an even coating of olive oil and seasoning.
Bake for 35 minutes at 200°C, until tomato skins start to split and the garlic has softened, which will take around 30-40 minutes.
Meanwhile, cook the pasta for 1 minute less than the packaging instructions to keep them al dente. Set aside about half a cup of pasta water to thin the sauce.
For smaller chunks of chicken, check oven for chicken's doneness in about 35 minutes. Once done, transfer the cooked chicken to a clean chopping board to rest for 5-8 minutes before slicing.
Stir feta mixture, lightly pressing tomatoes for extra flavours to ooze out, until combined well. Add back chicken and pasta, toss to combine and slowly pour in reserved pasta water to reach desired consistency.
Top it off with a sprinkle of basil leaves.
One by One Chicken Breast (Skinless)
Popular Recipes