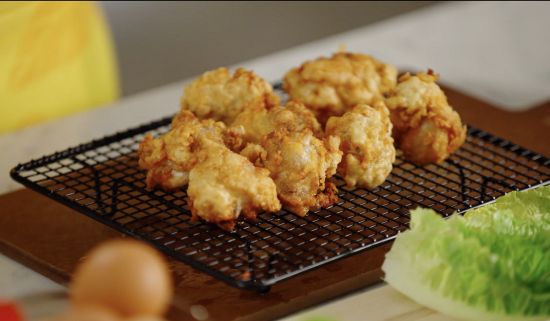 Stuffed Chicken Drumettes

45 mins

6 SERVINGS
INGREDIENTS
1 pack Sadia One by One Chicken Drumette
200-300ml cooking oil, or enough to cover drummettes
Stuffing for Chicken Drumette:
1 packet Sadia Helper Cuts Minced Chicken (300g)
80g water chestnuts, peeled and diced
30g laksa rempah
5g sugar
Batter:
120g AP flour
60g corn starch
60g rice flour
15g baking powder
1 egg
10g lime juice
120ml water, cold
**Laksa Rempah (if you don't want to use premade)
300g red onion, peeled and diced
30g chilli powder
20g belachan, roasted
30g hae bee, soaked in water
6 candlenuts, soaked in water
10g turmeric root, peeled and sliced
20g coriander powder
60g fish sauce
METHOD
Debone chicken drumette and marinate in laksa rempah for 30 minutes, or up to 24 hours.
Prepare stuffing for drumettes.
Prepare ingredients for batter in a bowl.
Stuff chicken drumette after marinating.
Add oil to saucepan at high heat to deep fry chicken.
Dip chicken in batter and deep fry until brown.
Place cooked chicken on drip tray for a few minutes after removing from oil, and serve hot.
Minced Chicken
One by One Chicken Drumette
Popular Recipes