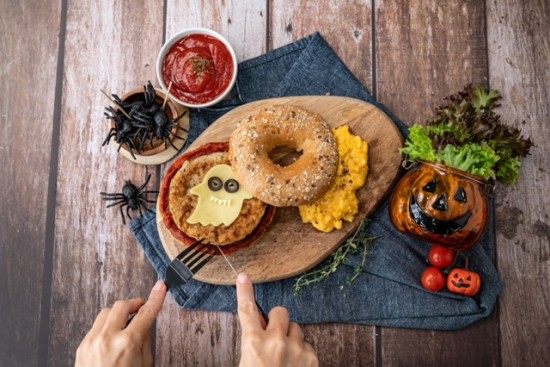 Cheeky Ghost Bagels

15 - 20 mins

4 SERVINGS
INGREDIENTS
4 Sadia Primo Chicken Burger with Garden Rosemary & Thyme
2 plain bagels
4 slices mozzarella cheese
1/2 cup marinara sauce
Black olives (change to seaweed or black sesame seeds if preferred)
METHOD
Follow packaging reheat instructions for the chicken patties. Alternatively, grill or pan-fry thawed chicken patties till cooked through, for about 6-8 minutes.
Preheat oven to 170ºC and line baking tray with parchment paper.
Let your kids help you out here, under supervision! Slice bagels into half horizontally. Open halved bagels and lay flat on baking tray. Then place cooked chicken patties on the halved bagels.
Spread thin layer of marinara sauce over the chicken patties.
Cut mozzarella cheese slices into shapes of Casper, your friendly ghost, and put each slice on top of the marinara sauce for each bagel. (Keep the remaining scraps of cheese for other uses.)
Bake until cheese is melty, for about 5 minutes.
Prep the cheese ghost's eyes by cutting small pieces of black olives (or seaweed/black sesame seeds).
Dot the eyes for each ghost and serve.
Primo Chicken Burger with Garden Rosemary & Thyme
Popular Recipes