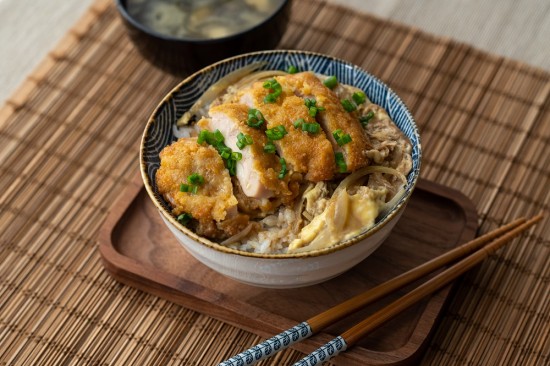 Chicken Katsu Don

10 mins

2 SERVINGS
INGREDIENTS
1 pack Sadia Breaded Chicken Cutlet
1/2 cup dashi or chicken stock
2 tsp sugar
1 tbsp soy sauce
2 large eggs
1 medium onion, thinly sliced
2 servings instant Japanese rice
1 scallion, chopped
METHOD
Air fry the Breaded Chicken Cutlet per packaging instructions and heat up the rice accordingly.
Add chicken stock, sugar and soy sauce to a small bowl. In another bowl, lightly beat 2 eggs.
Pour 1 tbsp oil in a pan over medium heat and add sliced onion. Fry onions until translucent and slightly caramelised.
Slice the chicken cutlet while the onions are cooking.
Pour the stock mixture over onions. Then place the sliced chicken above the onions.
Drizzle the egg over and cook over medium low heat until the egg is just set.
Finally, serve over bowls of steamed rice and garnish with scallions (optional).
Popular Recipes