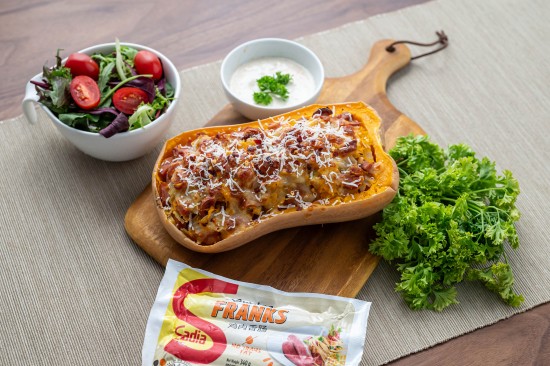 Sausage-stuffed Butternut Squash

20 min

4 SERVINGS
INGREDIENTS
1 medium butternut squash (~1kg)
½ pack Sadia Chicken Franks
1 medium onion, finely chopped
4 garlic cloves, minced
½ cup shredded Italian cheese blend
Crushed red pepper flakes, optional
METHOD
Preheat the oven's broiler. Cut squash lengthwise in half and discard seeds.
Place squash in a large microwave-safe dish, cut side down, add a drip of water. Microwave the squash covered until it softens, for around 25 minutes. Cool slightly.
Meanwhile, in a large nonstick pan, cook the sausages with onions over medium-high heat for about 6-7 minutes.
Add garlic; stir and toss around for a minute.
Scoop flesh from squash and stir it into sausage mixture. Place squash shells on a baking sheet; fill with sausage mixture. If you want, sprinkle some cheese over.
Broil 10cm away from heat until cheese melts. Sprinkle with pepper flakes if you would like some added spice.
Cut each half into 2 portions to serve.
Chicken Franks
Popular Recipes