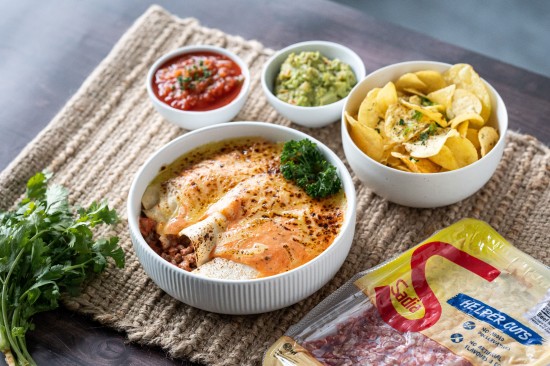 Baked Cheesy Chicken Wraps

15min

4 SERVINGS
INGREDIENTS
2 tbsp butter
100g all-purpose flour
600ml chicken broth
1 tsp dried coriander
200g canned tomatoes
300g Sadia Minced Chicken
250g shredded Monterey Jack cheese
150g shredded cheddar cheese
8 pcs flour tortillas (8 inches), warmed
1 cup shredded cheddar cheese
Salt and pepper, to taste
METHOD
Preheat oven to 180°C
In a large saucepan, melt butter and stir in flour until smooth. Gradually add broth. Bring to a boil. Cook and stir for 2 minutes or until thickened
Stir in coriander and half of the canned tomatoes
In a large bowl, combine the beef, Monterey Jack cheese and the balance of the canned tomatoes
Spoon 2-3 tbsp of beef mixture onto each wrap and roll up. Place seam side down in an ungreased baking dish
Pour sauce over wraps and sprinkle with cheddar cheese
Bake, uncovered, 15-18 minutes or until heated through and cheese is melted. Yums!
Minced Chicken
Popular Recipes