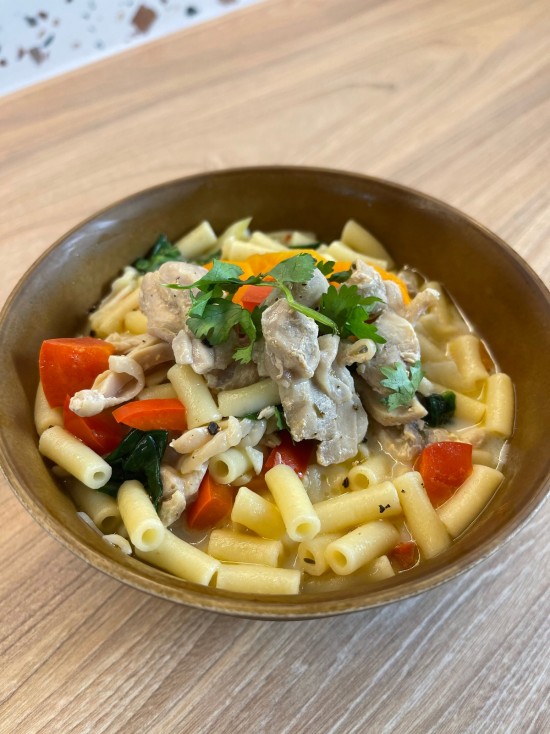 Creamy Chicken Soup with Macaroni Pasta

10 mins

6 SERVINGS
INGREDIENTS
1 tbsp olive oil
1 large sweet onion, peeled and chopped
1 red bell pepper, seeded and chopped
2 cups carrots, sliced
4 cloves garlic, chopped
1 pack Sadia Stir Fry Chicken
1L chicken broth
Macaroni pasta for 6 servings
1/3 cup heavy cream
2 tbsp packed frozen spinach or 1 cup fresh baby spinach leaves
2 tbsp fresh parsley, chopped
1 1/2 tsp dried thyme leaves (or 1 tbsp fresh thyme)
1 tsp red chilli flakes
Salt and pepper
METHOD
Bring water to a boil and cook pasta 2 minutes shorter than instructions. Remove pasta and set aside.
Place a large sauce pot over medium heat. Add olive oil and chopped onions. Saute for 3 minutes to soften.
Then add chopped bell pepper, carrots and garlic. Saute another 3 minutes.
Add chicken, chicken broth, dried thyme and crushed red pepper to the pot. Season with salt and black pepper. Bring to a simmer.
Lower the heat a little and simmer for 10 minutes.
With the broth still simmering, stir in the cooked macaroni pasta. Cook for about 2-3 minutes.
Switch off heat, stir in heavy cream, spinach and parsley. Add a little more cream if desired.
Taste and add salt and pepper as needed.
Popular Recipes