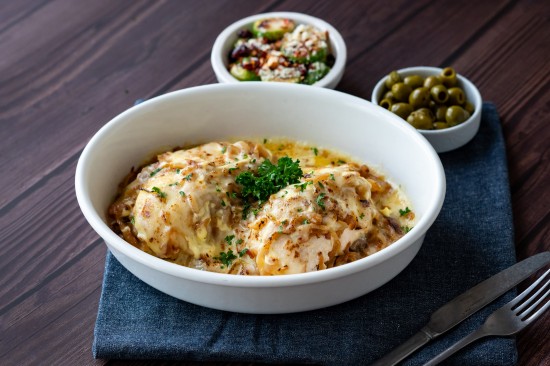 French Onion Chicken Casserole

10 min

6 SERVINGS
INGREDIENTS
3 boneless, skinless chicken breasts
2 tsp garlic powder
1 tsp dried oregano
Pinch of salt and fresh cracked pepper
300g shredded mozzarella cheese (or Gruyere)
2 tbsp unsalted butter
5 large onions, thinly sliced
3 cloves garlic, minced
300ml chicken broth
Fresh chopped parsley, for garnish
METHOD
Preheat oven to 200°C and lightly grease a deep baking dish. Set aside
Melt butter in a large skillet over medium-high heat. Add onions and season with salt and pepper and cook until translucent
Reduce heat and stir onions over low heat until caramelised. Put a little broth to deglaze pan if it gets too dry
Stir in fresh minced garlic and cook until fragrant, about 1 minute. Turn off the heat and allow to cool slightly.
Spoon onions on top of each chicken breast. Sprinkle shredded cheese on top and bake for 20-25 minutes in the oven (or more, depending on the thickness of your chicken breasts), until fully cooked and cheese is bubbly.
Garnish the French onion chicken casserole with fresh chopped parsley and serve immediately with steamed vegetables or steamed rice. Enjoy!
One by One Chicken Breast (Skinless)
Popular Recipes