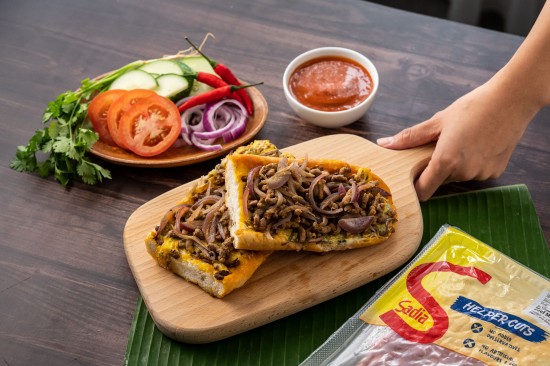 Roti John

10 min

2 SERVINGS
INGREDIENTS
1 baguette
200 gr Sadia Beef Minced
1 tsp curry powder
1 large onion thinly sliced
2 large eggs, beaten
Salt and pepper, to taste
2 tbsp cooking oil

Ketchup
Mayonnaise
Sriracha chili sauce or any sweet chili sauce
METHOD
Cut baguette in half, and slice horizontally with a serrated knife. Do not cut all the way through
Add pinch of salt and black pepper to the egg and whisk lightly. Set aside
Add curry powder and a small pinch of salt to minced beef, and stir to combine
Preheat a non-stick pan, large enough for the baguette. Add onion and stir fry until fragrant, about 3 minutes. Add the ground meat and continue to stir fry until the meat turns color. Push everything towards the middle of the pan
Pour the egg over the meat and put the baguette cut side down on top of the egg mixture. Press down so that the mixture will stick onto the bread too. Cook until eggs are set
Use a spatula to flip the bread, and crisp the other side
Remove from heat and put on a plate, filling side up
Drizzle ketchup, chilli sauce and mayonnaise, and fold over the other half of the baguette. Cut into thick slices and enjoy!
Beef Minced
Popular Recipes