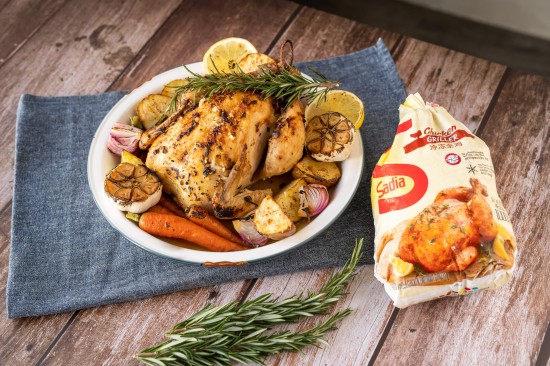 Garlic Herb Butter Roast Chicken

10 min

4 SERVINGS
INGREDIENTS
1 Sadia chicken griller, thawed to room temperature
100g unsalted butter, melted
3 tbsp olive oil
1 lemon, halved
Salt and freshly ground pepper, to taste
2 tbsp fresh chopped parsley
4 cloves garlic, minced
1 head of garlic
3 fresh rosemary sprigs
METHOD
Preheat oven to 220°C. Line a baking tray with foil, or lightly grease a roasting pan
Pour the olive oil, melted butter, and the juice of half a lemon over the chicken, under the skin and inside the cavity
Season chicken liberally on the outside and inside the cavity with salt and pepper. Sprinkle the parsley over the entire chicken
Rub the minced garlic over the chicken, mixing all ingredients together over the chicken and under the skin
Stuff the garlic head into the chicken cavity along with the rosemary sprigs and the squeezed lemon halve. Tie legs together with kitchen string
Place chicken, breast-side up into baking tray or roasting pan. Roast for 45 minutes, basting half way through cooking time, until juices run clear when chicken thigh is pierced with a skewer. Baste again, then broil for a further 2-3 minutes, until golden
Serve, drizzled with pan juices and remaining lemon half cut into wedges or slices.
Chicken Griller (Without Giblets)
Popular Recipes