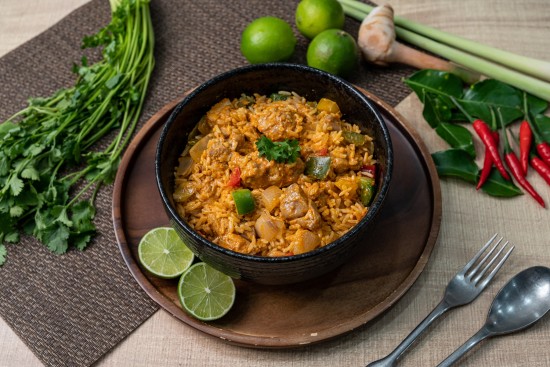 Tom Yum Chicken Rice (Rice Cooker)

10 mins

4 SERVINGS
INGREDIENTS
500g chicken cubes (2packs)
3 large bell peppers, a variety of colours, seeded and diced
1 large onion, peeled and diced
2 cups jasmine rice
1/2 cup coconut milk, mix with 1 cup water
1 tbsp cooking oil
Seasoning:
Garnish:
METHOD
Wash rice and drain off completely.
Preheat a large skillet over medium heat. Add cooking oil.
Add onion and saute for about 2 mins until aromatic and soft.
Add bell peppers and saute for another minute.
Add chicken, rice and tom yum paste and give it a good stir. Then turn off the heat.
Transfer mixture to the rice cooker. Add coconut milk and give it a stir. Make sure the rice is covered by the liquid.
Cook under the white rice setting for about 20 mins. When it's done, wait 10 mins before fluffing the rice with the paddle.
Garnish with fresh cilantro leaves and serve.
Popular Recipes