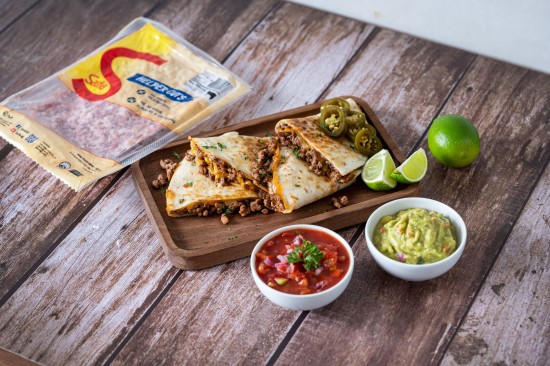 Cheesy Beef and Tomato Quesadillas

10 min

12 pieces SERVINGS
INGREDIENTS
½ tbsp olive oil
300g Sadia Beef Minced
½ tsp dried oregano
½ tsp ground cumin
½ tsp garlic powder
1 tablespoon tomato paste
Salt and pepper, to taste
2 tbsp unsalted beef stock
350g shredded cheese blend (Cheddar, Monterey jack and mozzarella)
6 flour tortillas
Salsa, guacamole or sour cream, for serving (optional)
Vegetable oil, for greasing pan
METHOD
Heat olive oil in a large non-stick frying pan over medium heat. Add ground beef, oregano, cumin, garlic powder, onion powder, salt and pepper. Cook, breaking the ground beef into small pieces and stirring occasionally, until the ground beef is fully cooked through - about 8 to 10 minutes.
Stir in tomato paste and beef broth and simmer for about 2 minutes. Remove beef from the pan and set aside.
Distribute cheese equally among all tortillas. Set aside 150g of cheese.
Put ground beef on top of cheese. Then sprinkle remaining cheese on top of ground beef. Fold over each tortilla so it's a half-moon shape.
Heat 2 tsp of vegetable oil in a large non-stick frying pan over medium-low heat. Gently swirl the oil around the pan to coat.
Cook the quesadillas in batches, two quesadillas at a time, adding more oil to the pan between batches as necessary.
Carefully flip quesadillas to the other side and continue to cook for another 2 minutes or until they're golden brown and crispy on the outside and the cheese is melted inside
When cooked, cut each half-moon (quesadilla) in half. Great served with salsa, guacamole or sour cream. Enjoy!
Store any leftovers in an airtight container in the refrigerator and use within 2 to 4 days"
Beef Minced
Popular Recipes