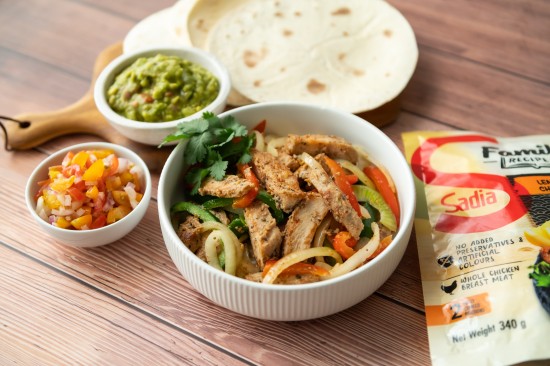 Easy Chicken Fajitas

5 min

4 SERVINGS
INGREDIENTS
2 packs Sadia Lemon Yoghurt Chicken Breast, thawed
1 tbsp olive oil
Salt, black pepper and paprika to taste
2 bell peppers (green and red), thinly sliced
1 large yellow onion, thinly sliced
4 pcs soft tortillas, lightly toasted
METHOD
Slice Sadia Lemon Yoghurt Chicken Breast into strips
Heat cooking oil in a large skillet over medium heat. Add sliced chicken, bell peppers and onions and cook for about 5-6 minutes, or till chicken is slightly browned and bell peppers and onions are soft
Season with some salt, black pepper and paprika. Stir well
Remove skillet from heat
Just before serving, place the filling down the centre of your warm, toasted tortilla. Then gently fold over one side of your tortilla into the middle
Close the 2 sides together and there you have it, your delicious chicken fajita, ready to enjoy with family and friends!
Lemon Yoghurt Chicken Breast
Popular Recipes