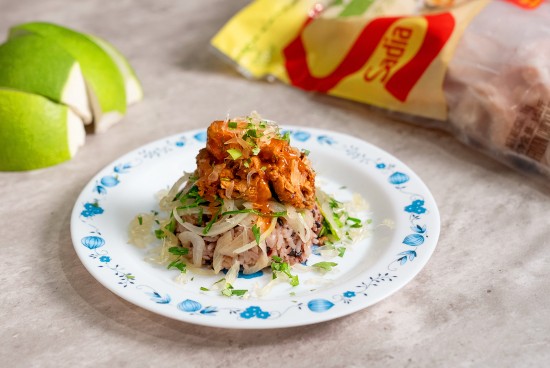 Seared Chicken with Pomelo

20 min

4 SERVINGS
INGREDIENTS
1 pack Sadia One by One Chicken Fillet (use half pack)
Marinade:
1 tbsp soy sauce
1 tbsp rice vinegar
2 tbsp black soy bean paste
3 garlic cloves (optional)
1 tbsp cornflour
Side dish:
2 small bundle Chinese chives, cut into short strips
2 small white onions, thinly sliced
4 tbsp olive oil
Salt and black pepper to taste
Steamed rice of your choice (enough for 4pax)
3 sprigs cilantro (optional)
2 tsp granulated sugar
Some Sriracha sauce
Fresh pomelo pulps
METHOD
Cut chicken fillet into bite-sized pieces and marinate it with soy sauce, rice vinegar, black soy bean paste, whole garlic cloves, and cornflour. Then set the marinated chicken aside.
Peel pomelo skin and carefully pick out the flesh. Store in a sealed container and transfer to the fridge first. You only need a small amount of pomelo flesh so the rest can be kept for dessert!
Slice onions and chop up the chives lengthwise.
Heat the pan on medium heat and add in the oil. Throw in the onion slices along with some salt and pepper to taste, and saute till translucent and fragrant.
Add in chives and cook until softened. Then transfer the side dish onto a plate.
To the same pan, pour in the marinated chicken. Stir gently but not too often, to prevent the sides from burning and cook until the marinade is absorbed fully.
Sprinkle sugar over and mix well. Cook the chicken until colour is medium to dark brown.
Serve your seared chicken over a plate of steamed rice and chives, and sprinkle some pomelo pulps and chopped cilantro on top if preferred. Drizzle some Sriracha sauce for some spice if desired.
One by One Chicken Fillet
Popular Recipes