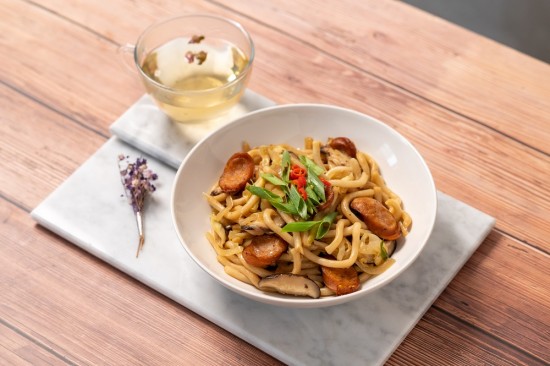 Hotlink Yaki Udon

10 mins

2 SERVINGS
INGREDIENTS
1 pack Smoked Hotlink Chicken Sausage
250g dried udon noodles (400g frozen or fresh)
2 tbsp sesame oil
1 onion, thickly sliced
¼ head white cabbage, roughly sliced
10 shiitake mushrooms
4 spring onions, finely sliced
4 tbsp mirin
2 tbsp soy sauce
1 tbsp caster sugar
1 tbsp Worcestershire sauce (or vegetarian alternative)
METHOD
Boil some water in a large saucepan. Add 250ml cold water and the udon noodles. If using frozen or fresh noodles, cook for 2 mins or until al dente; dried will take longer, about 5-6 mins. Drain and leave in the colander.
Heat 1 tbsp of the oil, add the onion and cabbage and sauté for 5 mins until softened. Add the mushrooms and some spring onions, and sauté for 1 more min.
Slice chicken sausages thinly and add into pan.
Pour in the remaining sesame oil and the noodles. If using cold noodles, let them heat through before adding the ingredients for the sauce – otherwise tip in straight away and keep stir-frying until sticky and piping hot.
Sprinkle with the remaining spring onions.
Popular Recipes