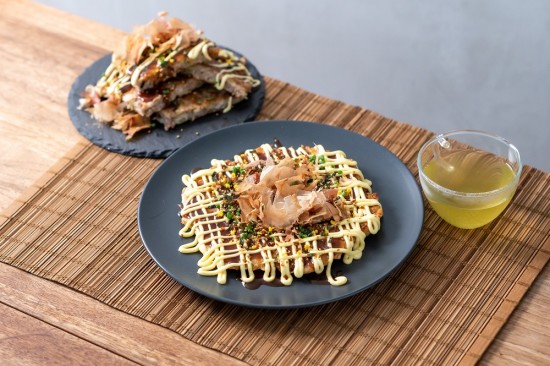 Sweet Potato Beef Okonomiyaki

10 mins

4 SERVINGS
INGREDIENTS
1 pack Sadia Beef Minced
1 cup plain flour
1/2 tsp baking powder
3/4 cup vegetable stock
3 eggs
1 tbsp soy sauce
2 1/2 cups Chinese cabbage, shredded
100g sweet potato, peeled and coarsely grated
1/4 cup spring onions, finely sliced (and some extra to garnish)
1/2 cup vegetable oil
Optional (to serve):
Japanese tonkatsu sauce
Nori flakes or furikake
METHOD
Whisk the flour, baking powder and a pinch of salt in a large mixing bowl.
Add eggs, vegetable stock and soy sauce to the mixing bowl. Whisk until smooth.
Add cabbage, sweet potato spring onions and beef to the mixing bowl. Mix to combine.
Heat 1 tbsp of oil in a large non-stick frying pan over medium heat.
Add 1 cup of batter to the pan and use a spatula or spoon to shape it into a thick, round pancake.
Cook the pancake for 3 minutes or until the underside turns golden. Then, flip the pancake over.
Cook for another 3 minutes or until cooked through.
Transfer pancake to a plate lined with paper towel. And repeat for the remaining batter and oil.
Drizzle with the sauces and sprinkle with spring onions and nori flakes to complete your okonomiyaki. Itadakimasu!
Beef Minced
Popular Recipes