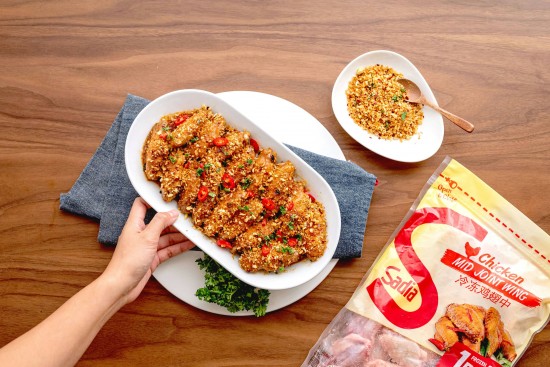 Spicy Butterscotch Wings

25 min

6-8 SERVINGS
INGREDIENTS
1kg (1 packet) Sadia Mid Joint Wing
Marinade:
2 tbsp soy sauce
2 tbsp ketchup
2 tbsp Sriracha chili sauce
1 tsp pepper
1 tsp crushed red pepper flakes
1 tsp onion powder
1/2 tsp salt
Butterscotch sauce:
1/2 cup sugar
1/2 cup 2% milk, warmed
2 tbsp butter
Crumb topping:
1 tbsp butter
1/2 cup panko bread crumbs
2 spring onions, sliced diagonally, divided
1 garlic clove, minced
1/2 tsp salt
1/2 teaspoon pepper
2 chilli padi, sliced (optional)
METHOD
Preheat oven to 200°C
Combine marinade ingredients, add wings and toss to coat.
Bake wings in a prepared pan for 10 minutes, reduce heat to 180°C and bake for 12-15 minutes until juices run clear. Remove from oven and keep warm.
While the wings are in the oven, prepare the butterscotch sauce. In a small skillet, add sugar and spread it out. Cook without stirring over medium heat until it begins to melt. Gently gather sugar to center of pan and without stirring, wait until melted sugar turns amber. Carefully stir in warm milk and butter. Simmer, stirring frequently for 5-7min, until thickened. Keep warm.
In a large skillet over medium heat, melt butter then add bread crumbs, spring onion (leave some for the next step), garlic, salt and pepper. Cook and stir for about 2 minutes , until bread crumbs are golden brown. Set aside.
To serve, toss wings in butterscotch sauce and sprinkle with crumb toppings and spring onion. For an extra kick of spice, garnish with sliced chilli padi.
Chicken Mid Joint Wing
Popular Recipes