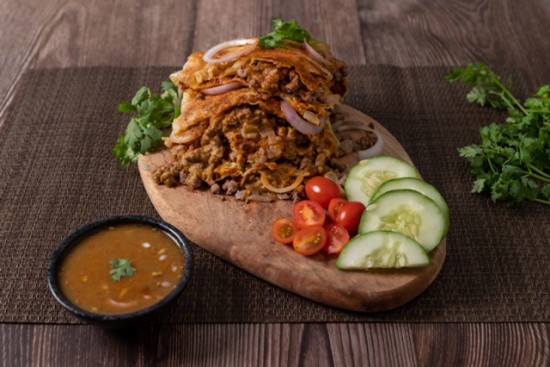 Mutton Murtabak

45 mins

10 SERVINGS
INGREDIENTS
For the filling:
500 minced mutton
1 tsp salt
1 tsp cayenne pepper powder
2 tsp cumin powder
10 eggs
1/2 yellow onion, chopped
For the bread:
4 cups bread flour
1 egg, room temperature
45g unsalted butter, melted
1 tbsp condensed milk
1 1/4 cup water
METHOD
To prepare the filling, heat a pan with some oil on medium heat. Add in minced mutton. Salt and cook until fully cooked, breaking up the meat as you go.
Add in cayenne and cumin powder. Continue cooking for 1 minute until powder is gone.
Set meat aside to cool completely.
To make the dough, add all bread ingredients in a standing mixer bowl.
Mix to incorporate everything, then knead for 10 minutes.
Leave the dough to rest for 10 minutes. Cover the bowl with a kitchen towel to prevent it from drying. Then knead for another 5 minutes.
Form dough into a log and cut into 10 equal pieces. Roll each piece into a ball and coat generously with butter then place it in a buttered container. Cover tightly with a cling film and leave to rest in fridge overnight.
To prepare the murtabak, first, coat the working surface generously with some soften unsalted butter. Place 1 ball of dough and flatten it with your fingers. Continue pressing and pushing the dough with the heels of your hand to stretch it.
Stretch it as thin as possible, until you can almost see through it. Now and then spread some butter on the dough to help the stretching.
Put 1 egg in the center of the dough. Break the yolk a bit with your fingers. Sprinkle some chopped onion on the egg, followed by previously cooked meat.
Fold the dough into a square, overlapping in the middle and making sure the filling is fully covered by the dough. Do the same for the rest of the dough balls.
Lastly, to cook the murtubak, heat some butter in a pan on medium heat. Place the murtabak in pan and cook for a few minutes until the bottom looks crispy. Flip it and continue cooking for a few minutes on the other side.
Popular Recipes