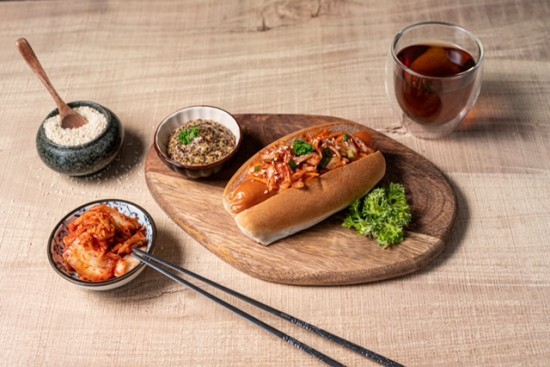 Hot Dogs with Spicy Kimchi Slaw

10 mins

8 SERVINGS
INGREDIENTS
KIMCHI SLAW:
1 cup kimchi, minced
1 medium carrot, grated
1 cup daikon radish, grated
4 scallions, white and light green parts chopped
2 tbsp fresh cilantro, chopped
1/2 tsp salt

SPICY GOCHUJANG SAUCE:
1/2 cup mayonnaise
3-4 tbsp Gochujang Korean chilli paste
1/2 lime, juiced

HOT DOGS:
8 hot dog buns
8 smoked gouda chicken & beef sausage
METHOD
Make the slaw by stirring together the minced kimchi with the grated veggies, scallions, cilantro and salt. Let this sit for at least 10 minutes for the flavours to mingle. Taste and add more salt if needed.
You can make this slaw up to a day in advance and refrigerate it, covered. (But it will start to break down if you make it much earlier than that.)
Make the chilli mayo sauce by whisking the ingredients together. Start with 3 tbsp of chilli paste and add more if you want it spicier.
Heat a gas or charcoal grill to medium heat and grill the sausages for 4-5 minutes (turning once until they have nice grill marks) and buns for about 30 seconds over direct heat. Alternatively, pan fry the sausages and buns.
Top each sausage with a generous amount of slaw and drizzle with the sauce to be served.
Popular Recipes