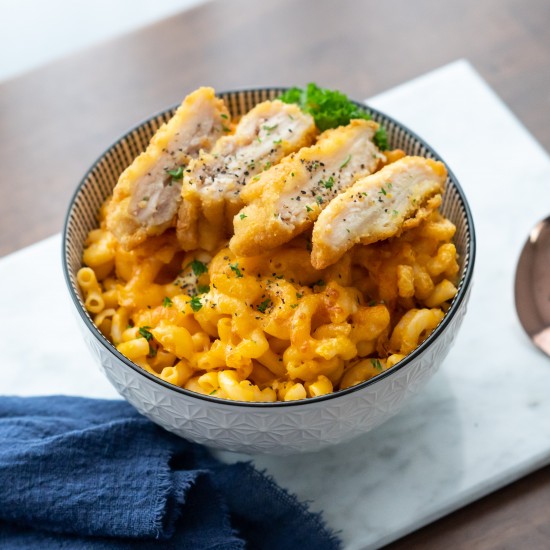 Breaded Cutlet Mac 'n' Cheese

20 mins

4 SERVINGS
INGREDIENTS
1 pack Breaded Chicken Cutlet
230g dried elbow pasta
57g butter, unsalted
35g all purpose flour
180ml whole milk
295ml half and half
165g medium sharp cheddar cheese, shredded and divided
80g Gruyere cheese, shredded and divided
1/4 tbsp salt
1/4 tsp black pepper
1/4 tsp paprika
METHOD
Preheat oven to 160°C and grease a 9"x13" baking dish for the mac 'n' cheese. Then set aside.
Bring a large pot of water to a boil, add in some salt. When boiling, add dried pasta and cook 1 minute less than the package directs for al dente.
Drain the cooked pasta and drizzle with a little bit of olive oil to prevent the pasta from sticking.
While water is coming to a boil, shred cheese and toss together to mix. Then divide this into three piles.
Airfry Breaded Chicken Cutlet at 200°C for 12 minutes.
Continue to heat the cheese over medium heat, whisking very often, until a thick consistency.
Remove from the heat and mix in spices and 1 1/2 cups of the cheeses, stirring to melt and combine.
Mix in another 1 1/2 cups of cheese and stir until completely melted and smooth.
In a large mixing bowl, combine drained pasta and cheese sauce, stirring fully.
Pour half of the pasta mixture into the prepared baking dish. Top with 1 1/2 cups of shredded cheese then top that with the remaining pasta mixture.
Sprinkle the top with the last 1 1/2 cups of cheese and bake for 15 minutes, until cheese is bubbly and lightly golden brown.
Slice the Breaded Chicken Cutlet and serve it on the baked mac 'n' cheese. And the dish is ready!
Popular Recipes