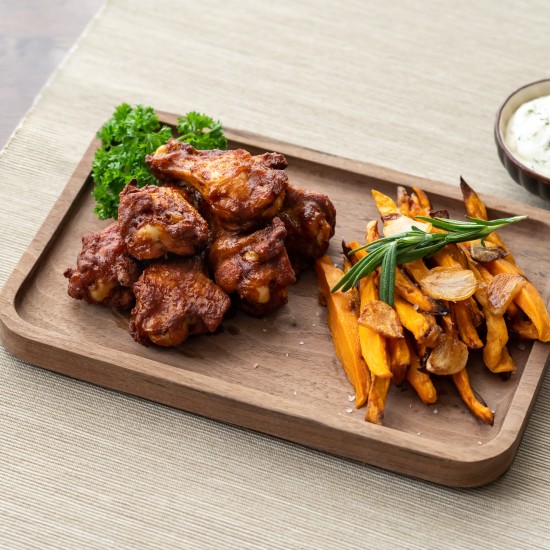 Sweet Potato Fries & Mala Wings

15 mins

6 SERVINGS
INGREDIENTS
1 pack Mala Chicken Wings
3 medium sweet potatoes, peeled
2 garlic cloves
3 tbsp olive oil
2 sprigs fresh rosemary
Flaky sea salt, to taste
METHOD
Preheat the oven to 205°C. Grease a baking sheet with nonstick spray.
Cut each sweet potato into quarters, then cut each quarter into 4 wedges.
In a large bowl, toss the sweet potatoes and garlic cloves in olive oil.
Arrange the potatoes in a single layer on the prepared baking sheet. Add rosemary and garlic cloves, then season well with salt.
Bake until the potatoes are golden brown and crisp, for about 20 to 25 minutes, flipping the potatoes halfway through baking.
Airfry the Mala Chicken Wings for 12 minutes at 200°C.
7Time to serve your Sweet Potato Fries with Mala Chicken Wings!
Popular Recipes