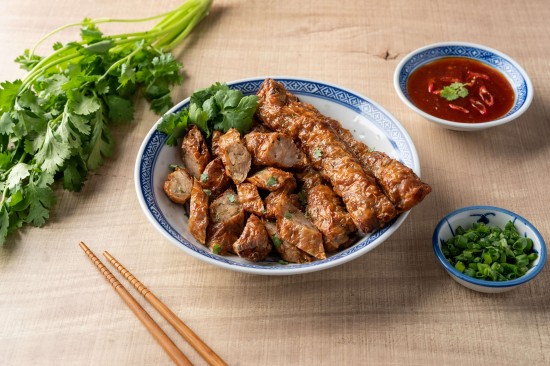 Baked Chicken Ngoh Hiang

1.5 hours

8 rolls SERVINGS
INGREDIENTS
1 large sheet beancurd skin
1 pack (300g) minced chicken
150g firm tofu, mashed
8 water chestnuts, diced finely
1 medium carrot, diced finely
1 bunch spring onions, sliced finely
1 handful red chillies, deseeded and sliced finely (optional)
1 large egg, whisked
1 tsp salt
1 tsp ground black pepper, heaped
1 tsp five spice powder
1/2 tsp olive oil (for brushing)
METHOD
Place minced chicken in a bowl.
Add tofu, water chestnuts, carrot, spring onions, chillies (optional), egg, salt, pepper and five spice powder.
Combine ingredients well with hand.
Spread beancurd skin on a flat, dry surface. With a damp cloth, wipe beancurd skin to remove excess salt.
Fold and cut beancurd skin into 8 rectangular pieces.
Spoon 4 tbsp of chicken mixture onto the beancurd skin rectangles. Roll up and tuck in the sides.
Lay rolls on a plate and steam for about 10 minutes.
Remove rolls and place them on a baking tray lined with aluminium foil.
Lightly brush rolls with olive oil.
1Bake for 15 to 20 minutes until golden brown.
Cut each roll into bite sizes and serve with some rice, cooked vegetables or some chilli sauce.
Minced Chicken
Popular Recipes