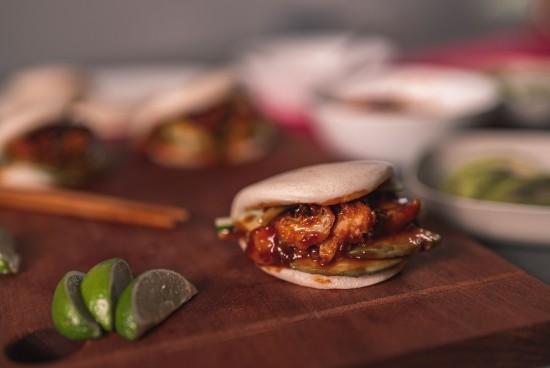 Sichuan Mala Chicken Bao

5 min

4 SERVINGS
INGREDIENTS
1 pack Sadia Sichuan Mala Chicken Wings
1 pack steamed leaf buns
6 tbsp hoisin sauce
3 tbsp sriracha
1 tsp fresh ginger, grated
1 tsp lime zest
Avocado slices
Sliced cucumber and/or carrot
Lime wedges, for serving
METHOD
Steam leaf buns for about 5 mins
Airfry chicken wings at 200°C for 10-12 mins
In a small bowl, whisk together hoisin sauce, sriracha, ginger and lime zest
Squeeze a little lime juice over avocado and cucumber.
Debone the airfried Sadia Sichuan Mala Chicken Wings, and shred chicken meat
Fill each bun with shredded chicken, sliced avocado and cucumber and spoon some mixed sauce over the filling. Serve remaining sauce on the side with lime slices for extra zest.
Popular Recipes