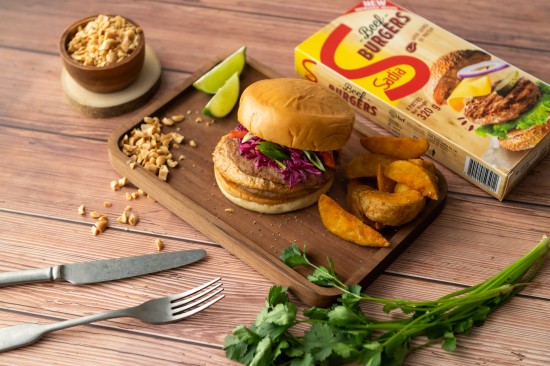 Thai Peanut Butter Burger

40 min

4 SERVINGS
INGREDIENTS
Burger:
1 pack Sadia Beef Burger Patties
4 burger buns, halved and toasted
2 tbs oilve oil, for frying
Peanut Sauce:
6 tbsp creamy peanut butter
3 tbsp fresh lime juice
2 tbsp hoisin sauce
1/2 tbsp soy sauce
1/2 tbsp sesame oil
1/2 tbsp honey
1 tsp garlic chilli sauce
1 tsp finely minced fresh ginger, or ginger paste
2 cloves garlic, finely minced (about a teaspoon)
Tangy Slaw:
1/2 cup carrots, julienned
1/2 cup shredded purple cabbage
1/2 stalk finely sliced spring onion
1 tbsp fresh lime juice or rice vinegar
1/2 tbsp oil
1/2 tsp sugar
Salt and pepper to taste
METHOD
Whisk or blend all peanut sauce ingredients until creamy, removing any lumps. This can be done several days in advance and refrigerated
In a medium bowl, mix carrots, cabbage and green onion
In a separate bowl, whisk lime juice (or vinegar), oil, sugar and some salt and pepper to make the dressing. Toss vegetables with the dressing and set aside. The slaw can be made several hours (or up to a day) in advance
Put oil in a heavy-bottomed skillet over medium heat for a few minutes, until it just starts to smoke
Place the Sadia Beef Burger Patties in an even layer on the skillet. Then cook for about 4 minutes, or until completely brown on one side
Flip the patties and cook on the other side for another 4 minutes, or until fully cooked
Remove patties from the skillet and allow to rest on a plate lined with paper towels to drain any excess fat
Toast the burger buns in the same pan, if preferred. Then assemble the patties on the buns, topped with peanut sauce and slaw. Oh-so-yummy!
Beef Burger Patties
Popular Recipes