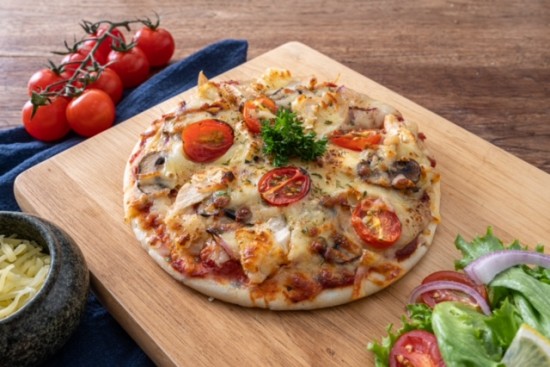 Cheesy Chicken Mushroom Flatbread Pizza

15 mins

4 SERVINGS
INGREDIENTS
Pepper Grilled Chicken Breast :
1 loaf focaccia bread or pizza dough
1 can pasta tomato sauce
1 cup cherry tomatoes (sliced in half)
2 medium red onion (Thinly sliced)
200g grated mozzarella cheese
1 cup Brown mushrooms (sliced)
SEASONING:
2 teaspoon Italian seasoning
Olive oil
Salt, black pepper
*Chilli flakes
*Dried basil
METHOD
Cook chicken breast per package instructions. When cooled, dice up the chicken breast.
Thinly slice red onions and mushrooms.
In a hot pan, add 1 tbsp of olive oil. Sauté onions and mushroom for 3 mins. Set aside.
Slice focaccia bread lengthwise in half then gently roll to flatten slightly.
Spread tomato sauce on focaccia bread, followed by cooked chicken, mushroom, onions. Add in cherry tomato and mozzarella cheese on top.
Put in oven or air fryer at 180°C for 8 mins to melt cheese .
Sprinkle dried basil, chilli flakes and serve hot!
Pepper Grilled Chicken Breast
Popular Recipes