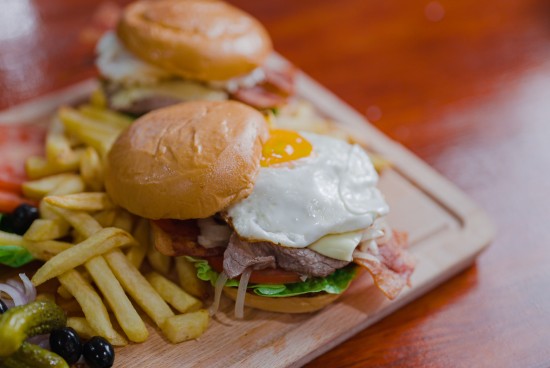 Chivito al Plato

5 min

2 SERVINGS
INGREDIENTS
1 pack Sadia Helper Cuts Beef Stir-Fry
4 slices turkey bacon
2 egg
2 slice mozzarella cheese
2 tomato slices
1 onion, sliced
Butterhead lettuce, 2 leaves
Mayonnaise
Salt and pepper
2 burger bun
METHOD
In a pan, fry turkey bacon and a few slices of onion. Set aside
Using the turkey bacon grease to cook Sadia Beef Stir-Fry, adding some salt and pepper when it is half done. Add cheese on top of the beef to melt.
Then, fry the sunny-side up. Use a clean pan if necessary.
Stack the ingredients on the burger bun. Add more lettuce and tomatoes if desired.
Serve with fries or potato salad and tuck in!
Beef Stir-Fry
Popular Recipes