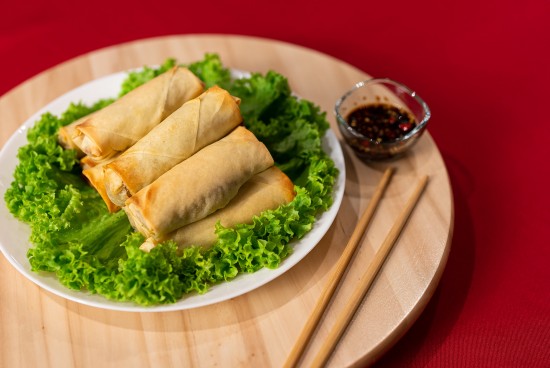 Golden Chicky Spring Rolls

10 min

8-10 rolls SERVINGS
INGREDIENTS
1 pack Sadia Primo Chicken Burger with Rosemary and Thyme, thawed
1 small carrot, finely chopped
8-10 pcs spring roll wrappers
Cooking oil
Water
Dipping sauce:
3-4 tbsp light soy sauce
1-2 clove garlic, chopped (adjust accordingly to desired amount)
1 small red chilli, thinly sliced (optional)
METHOD
Mash Sadia Primo Chicken Burger with Rosemary and Thyme patties in a big bowl and add carrots in. Mix well
Place the spring roll wrapper on a flat surface so one of the four corners is facing toward you (it should look like a diamond)
Place two tablespoons of filling 2 inches from the corner closest to you
Fold the bottom corner up and roll the wrapper around the filling, squeezing the air out gently as you roll. Fold over both the left and right sides of the wrapper towards the middle
Lightly wet the exposed corner to seal it down. Repeat the same step for the remaining spring rolls
Lightly spray the air fryer basket with some oil and arrange the spring rolls in the basket. Spray the spring rolls with some oil
Cook on 190°C for about 8 minutes, flipping halfway through cooking, until the spring rolls are crisp and golden brown on all sides. Break one open to check if the meat is cooked through
Drain on paper towels
Mix the ingredients for dipping sauce in a small bowl, and serve with the hot and crispy rolls. You won't stop at one!
Primo Chicken Burger with Garden Rosemary & Thyme
Popular Recipes