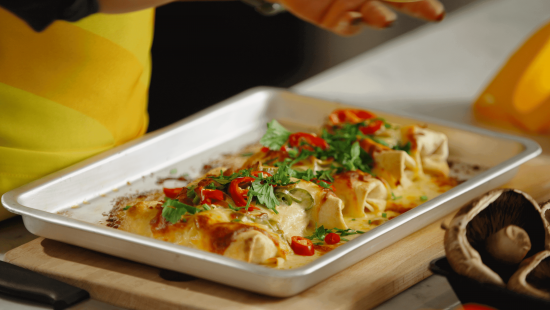 Chicken Enchilada

25 mins

4-5 SERVINGS
INGREDIENTS
2-3 cups Sadia Pepper Grilled Chicken Breast, shredded (fully cooked chicken breast)
2.5 cups shredded cheese (cheddar, mozarella, jack cheese)
3 tbsp butter
3 tbsp flour
1.5 cups chicken stock
1 cup sour cream
10 soft taco shells
1 cup green chillis diced

Garnish:
½ cup chopped red and green peppers
chopped cilantro
METHOD
Cook chicken breast per packaging, and shred it. (Tip: Toss the cooked chicken breasts into a kitchen aid mixer. Switch it on low and watch them shred up perfectly.)
Preheat oven to 180 degrees. Grease a 9×14 pan.
Mix shredded chicken and 1 cup of cheese, shredded, in a bowl.
Roll up the chicken into 10 tortillas and place seam down in the prepared pan.
In a medium saucepan, melt the butter over medium-high heat. Stir in the flour and stir while cooking for 2 minutes.
Add in the chicken stock and whisk until smooth. Heat over medium heat until thick and bubbly. This will take about 15 minutes.
Turn off the heat and stir in the sour cream and green chilies. Stir well and remove from heat so your sour cream won't curdle. When it is mixed well, pour your sauce over the enchiladas in the pan.
Top with the remaining 1½ cup of cheese.
Bake for 22 minutes and then broil on high for 3 minutes at the end to get the cheese bubbly.
Garnish with red and green peppers, cilantro/parsley. The dish is ready to be served.
Pepper Grilled Chicken Breast
Popular Recipes