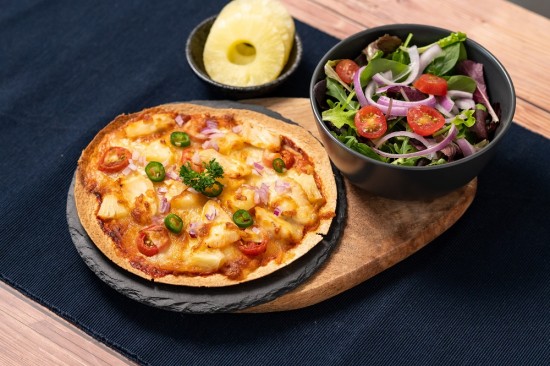 Chicken Tortilla Pizza

5 mins

5 SERVINGS
INGREDIENTS
1 pack Pepper Grilled Chicken Breast
2 whole wheat tortilla (or whole wheat pita bread)
¼ cup sauce (marinara, pesto, olive oil and garlic, barbecue sauce)
⅓ cup or less shredded/crumbled cheese (mozzarella, cheddar, goat, feta)
Barbecue sauce
Mozzarella and sharp cheddar cheese
1/2 chopped red onion
Canned Pineapples
2 green chillies
METHOD
Preheat the oven to 220 degrees Celcius.
Place the tortilla in a 12-inch cast iron pan or baking sheet (max crispiness option: place the tortilla on a stainless steel, oven-safe cooling rack, and place that on the baking sheet).
Spread sauce evenly across the tortilla, leaving ½ inch around the edges. Sprinkle with cheese and toppings.
Thaw chicken, cut into small pieces and place over the tortilla.
Bake until the cheese is golden and bubbling (no sooner!) and the edges of the tortilla are lightly browned, about 10 to 14 minutes. Let the pizza cool for a few minutes before slicing.
Pepper Grilled Chicken Breast
Popular Recipes