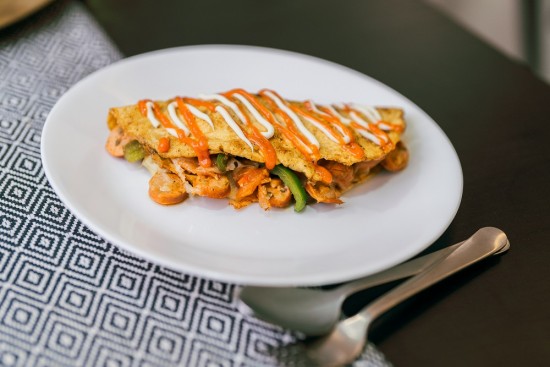 Classic Stuffed Omelette

5 mins

2-3 SERVINGS
INGREDIENTS
1 pack Italian Classic Chicken Sausage
1 tbsp Olive oil
2 tbsp Garlic, chopped
1 tbsp Soy sauce
1 tsp Paprika powder
1 tsp Dried oregano
1 tbsp Tomato ketchup
1 Tomato, deseeded and sliced thinly
1 Capsicum, deseeded and sliced thinly
For omelette:
4 Eggs (2 for each pax)
Salt, to taste
Black pepper, to taste
1-2 tsp Olive oil
Mozzarella cheese, grated as required
Chilli and mayonnaise, for dressing (optional)
METHOD
In a frying pan, add cooking oil and garlic.
Add sliced tomato, capsicum, and tomato ketchup. Mix well for 1-2 minutes, then add in paprika powder, dried oregano, and soy sauce. Stir well.
Add in sliced sausages and stir well, for another 2 minutes. Then set cooked mixture aside.
In a bowl, crack 2 eggs. Add in salt and black pepper, and whisk well.
Using the same frying pan, add oil and egg mixture. Cook on low flame for 2 minutes then flip and cook other side for a minute.
Now add cooked sausage mixture and mozzarella cheese in the middle of the egg. Fold and cook on low flame for 30 seconds & serve!
Popular Recipes