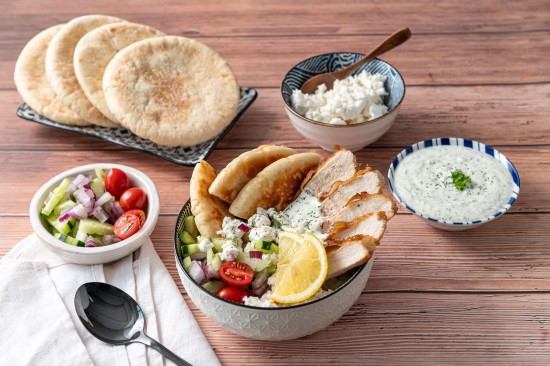 Greek Chicken Gyro Bowls

10 mins

4 to 5 SERVINGS
INGREDIENTS
2-3 large, boneless and skinless chicken breasts, pounded to even thickness
1/4 cup olive oil
1 lemon, juiced
1 tbsp oregano, chopped
1 tbsp dill, chopped
1 tsp thyme, chopped
2 tsp garlic, minced
Salt and pepper to taste
2 cups quinoa or brown rice, cooked
1/2 cup feta cheese, crumbled
3 pita breads
CUCUMBER SALAD:
1 cup cherry tomatoes, diced
1 cucumber, peeled and diced
1/4 red onion, diced
1 tbsp fresh lemon juice
Salt and pepper to taste
TZATZIKI DRESSING:
1/2 cucumber, peeled and diced
2 cups plain Greek yoghurt, cold
4 tsp garlic, minced
1/3/ cup fresh dill, chopped
1/2 lemon, juiced
1.2 tsp salt or to taste
1/4 tsp black peppr
METHOD
Puree all sauce ingredients in a blender or food processor. Cover and chill until ready to serve.
Combine cucumber salad ingredients. Stir and set aside until ready to use.
Whisk olive oil, lemon juice, oregano, dill, thyme, garlic and salt and pepper to taste.
Combine marinade and chicken in a large ziploc bag. Seal and chill for 15-30 minutes.
Cook chicken on stove or on the grill over medium-high heat for 5-8 minutes on each side until cooked through.
Allow chicken to rest for 5 minutes then thinly slice into strips.
Portion dressing, feta cheese and cucumber salad into condiment cups. Fill three meal prep containers with brown rice or quinoa, chicken, filled condiment cups and pita bread.
When ready to serve, remove condiment cups and heat chicken, rice and pita bread.
One by One Chicken Breast (Skinless)
Popular Recipes