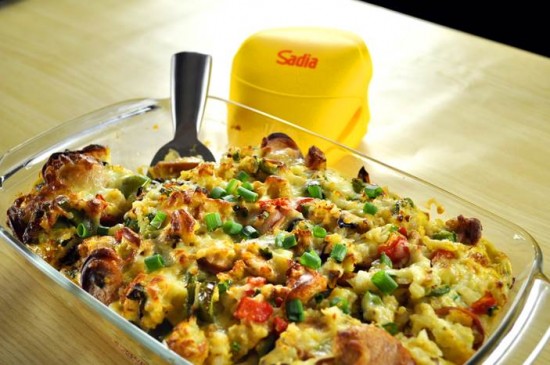 Christmas Morning Breakfast Casserole

15 mins

3-4 SERVINGS
INGREDIENTS
1 pack Sadia smoked sausages, sliced about 0.5cm thick
1 onion chopped
100g white mushrooms chopped
1 green bell pepper chopped
1 red bell pepper chopped
6 eggs
1/3 cup milk (I used 2%)
1/4 tsp salt
1/4 tsp black pepper
1/4 tsp red pepper flakes (optional)
500g frozen hash brown potatoes, chopped/cubed
2 cups mozzarella cheese shredded
4-5 tbsp spring onions chopped
METHOD
Preheat the oven to 200℃.
Heat a large skillet pan with olive oil over medium-high heat. Add the onion and mushrooms to the pan and cook for about 3 minutes.
Add the sausages to the pan and cook per instructions stated on packaging.
Add bell peppers and stir. Cook for a few more minutes, just until the peppers soften a bit. Then, transfer to a large bowl and set aside.
In a small bowl, whisk the egg with milk, salt, pepper and red pepper flakes.
To the large bowl of cooked vegetables and sausages, add hash brown potatoes.
Add 1½ cups of mozzarella cheese and mix well. Make sure to reserve ½ cup of cheese for sprinkling later.
Add the egg mixture and about ¾ of chopped spring onions in. Continue to stir until well combined.
Pour mixture into a 9 x 13 inch baking dish and sprinkle with the remaining ½ cup of cheese over the top. Bake for about 20 minutes until lightly browned.
Sprinkle with remaining green onions and serve.
Popular Recipes