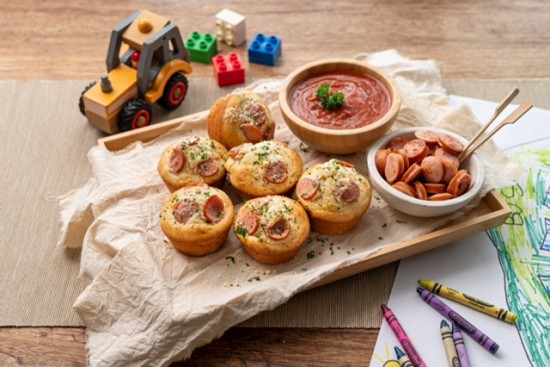 Mini Pizza Puffs

15 - 20 mins

12 SERVINGS
INGREDIENTS
2 Sadia Smoked Gouda Chicken & Beef Sausage, thinly sliced
12-cup muffin tin
Non-stick cooking spray
3 cups pancake mix
2 eggs
1 cup milk
3 tbsp olive oil
2 tsp Italian seasoning
3/4 tsp kosher salt
1/2 tsp garlic powder
Grated parmesan cheese for garnish
Marinara (or pizza sauce), for dipping
METHOD
Preheat oven to 200°C while your kids help out with greasing the bottoms of a 12-cup muffin tin with cooking spray.
In a large bowl, combine pancake mix, eggs, milk, olive oil, salt, garlic powder and Italian seasoning. Whisk until just combined, then fold in with the sausages.
Scoop batter into muffin tin. Top with more slices of sausages if preferred, bake until the puffs look golden and cooked through for about 20 minutes.
Tip: To know if your puffs are cooked through, poke a toothpick in and check if it comes out clean and dry.
Sprinkle with grated parmesan and serve warm with marinara sauce on the side. Time to eat!
Popular Recipes